Medical Supply E-Commerce Store Sees 208% Lift In Traffic & 4000% Growth In Transactions In Two Years
This client was a B2B medical supply company with an e-commerce website and a traditional wholesaling business. The client had been in business for nearly 20 years but had only just started seriously doing business online when we first started working with them. While the website was well stocked and well organized, it was suffering from various technical SEO issues and was very thin on high-quality content for a website made of thousands of unique pages.
We began working with this client in mid-2017 when they contacted us for assistance migrating their existing e-commerce website that was not meeting their needs to a custom Magento website build. While the company was doing some business online, they were limited by their existing store and wanted to transfer to something more suited to their needs.
Their existing e-commerce website was on a dated system, which meant they had little to no control over metadata and page content, never mind more advanced optimization factors. While the website saw some traffic, it received little to no organic traffic, and customer acquisition was slow-moving.
We knew the domain had some authority in the space due to its age, so we were confident we'd be able to quickly build authority and organic traffic once we had the website properly optimized and could create some targeted content.
Project Name
Medical Supply E-Commerce Store Sees 208% Lift In Traffic & 4000% Growth In Transactions In Two Years
Our Role
Managed Content Marketing / Technical SEO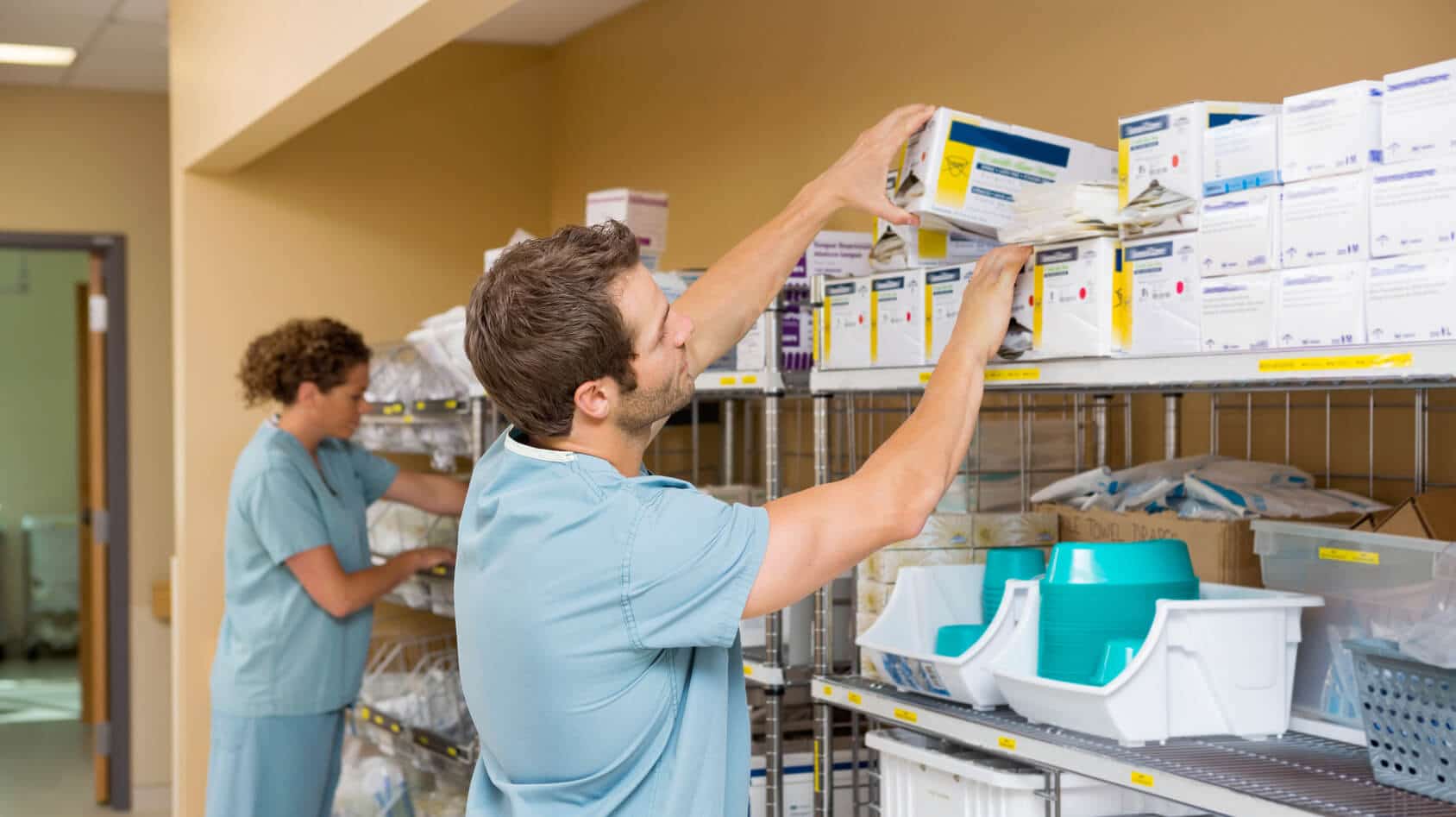 Increase In Total Website Traffic
Increase In Monthly Transactions
Lift In New Customer Sign-Ups
As we were working with the client to launch a revamped online presence, we set a few long-term goals and a few short-term goals, including:
Re-launch a highly-optimized Magento website
Increase the website's organic search traffic for transactional and informational terms
Increase the number of new customer sign-ups each month
Increase monthly sales, average order value, and total products sold
Before kicking off our content marketing campaign, we had to build the client's website. This was back in 2017 when we still developed e-commerce websites, so we decided to build the store on Magento 1.
We built in several custom customer engagement features like an auto-reorder feature, a price match feature, and a number of email captures throughout the website. We also made sure the website was as fast as it could be.
While building the website, we were simultaneously conducting research on the target audience and the medical supply industry at large. Luckily, the client had an extensive catalog, making it easy to generate hundreds of great transactional and informational keyword targets.
After completing our research and formulating a strategy with the client, we created a content marketing strategy based around:
Optimizing product & category pages with extended descriptions and FAQs
Creating a resource library of PDFs, instructions, how-to's, and more for various products
Creating informational articles about the types of products they sold and about topics that would be of interest to several different personas within the medical industry.
We started creating some content just before the website launched so that the blog wouldn't be bare for any new visitors. The website went live in late 2017, and we began to drip out product and category content for the client over the next several months.
The traffic began to pick up quickly, rising from roughly 500 visitors in May 2017 to just shy of 1500 visitors in December 2017. In January 2018, the website logged 4777 visitors and only 37 transactions.
While we had published a handful of articles for the website's launch, due to the client's desire to prioritize alternative marketing strategies like email, our content marketing campaign was put on hold for 2018 and resumed in mid-2019.
In June 2019, we slowly started publishing new article content, dripping out two articles per month for the first two months. As the website began to see traffic from the content, the client decided to scale up the content creation efforts in the last quarter of 2019.
It didn't take long for us to start seeing results from our content marketing campaign. In September of 2019, the website saw 5700 visitors, of which about 3500 were from organic searches. The website recorded 716 transactions and 47 new customer sign-ups, 24 approved as customers.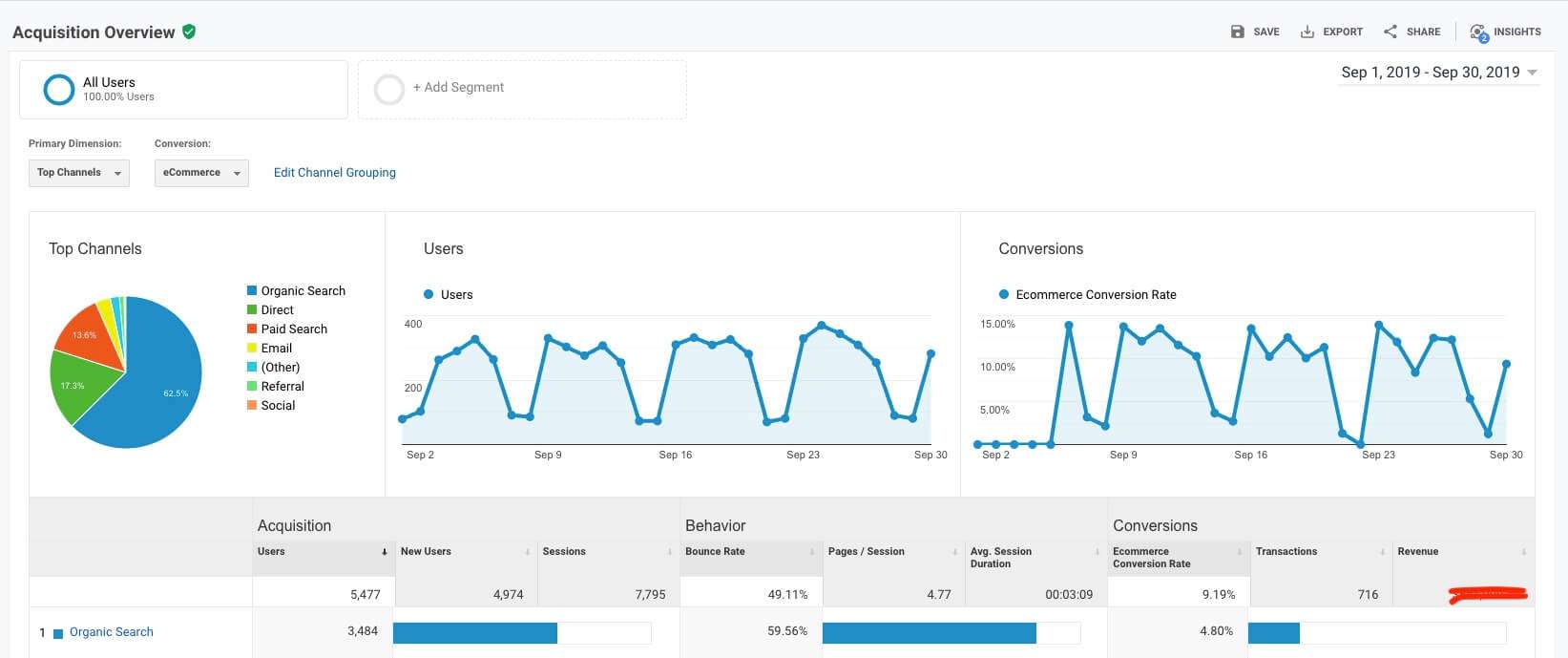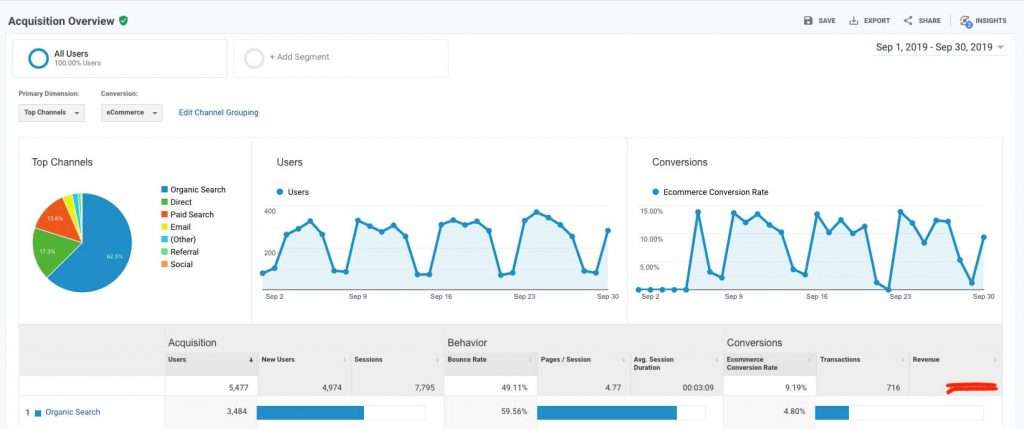 By March 2020, the website traffic had almost tripled, bringing in just under 13,500 website users. Of those users, nearly 10,000 of them came from organic search. What's more, the transactions nearly doubled from 716 per month to more than 1400. What's more, 128 new customers were approved.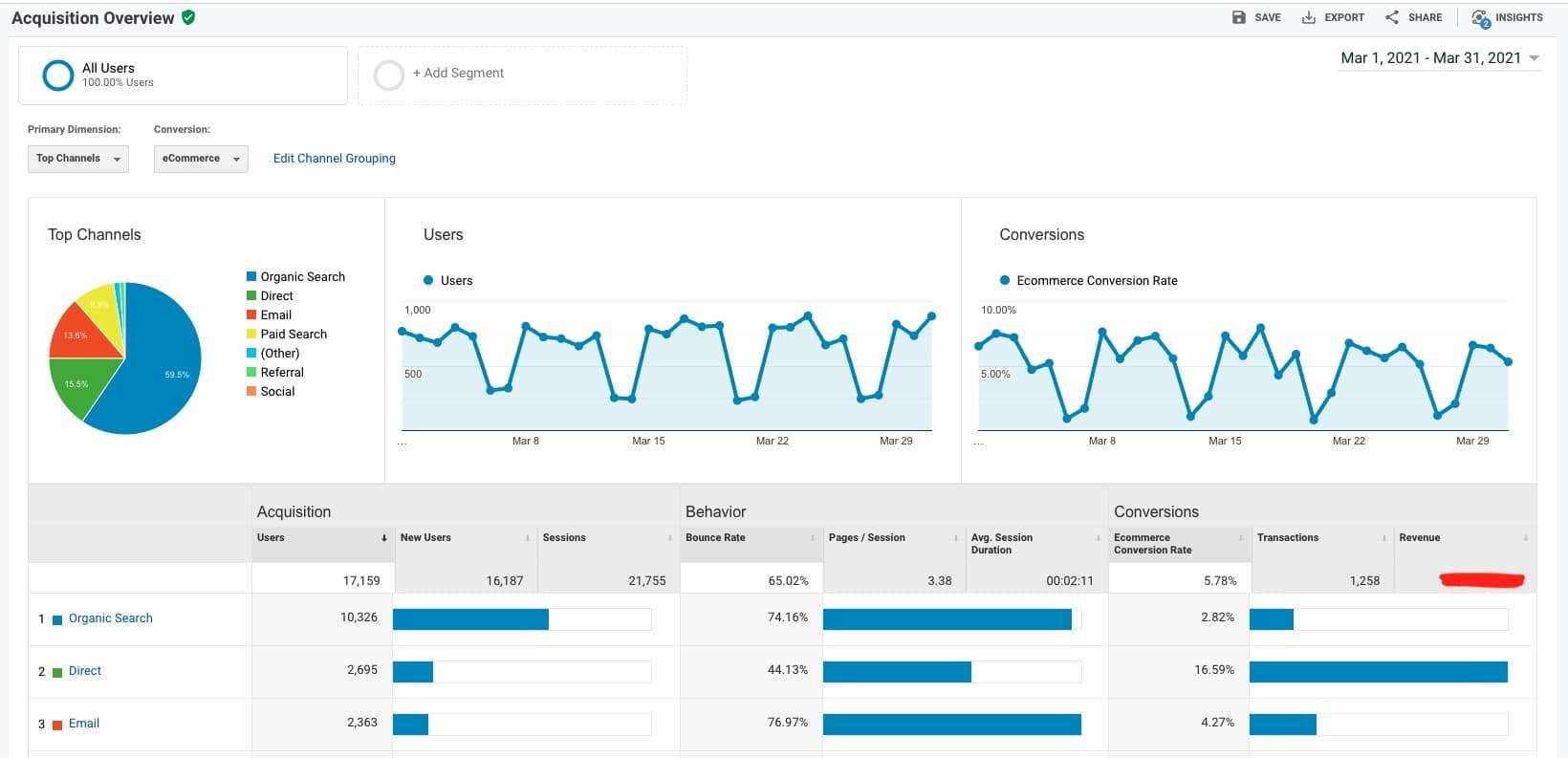 In May of 2020, we put another pause on our content marketing efforts to focus on conversion rate optimization, customer engagement, and email marketing. In March of 2021, the website had more than 17,000 users while nearly maintaining its level of sales from the height of the COVID-19 pandemic with just about 1500 transactions.

Throughout 2021, the website maintained between 10,000 and 12,000 organic visitors per month. More importantly, the conversion rate remained stable the entire time, and the monthly sales and new customer sign-ups continued to grow slowly each month.
After seeing substantial growth, another company acquired this client in late 2021, and they were absorbed into the larger organization.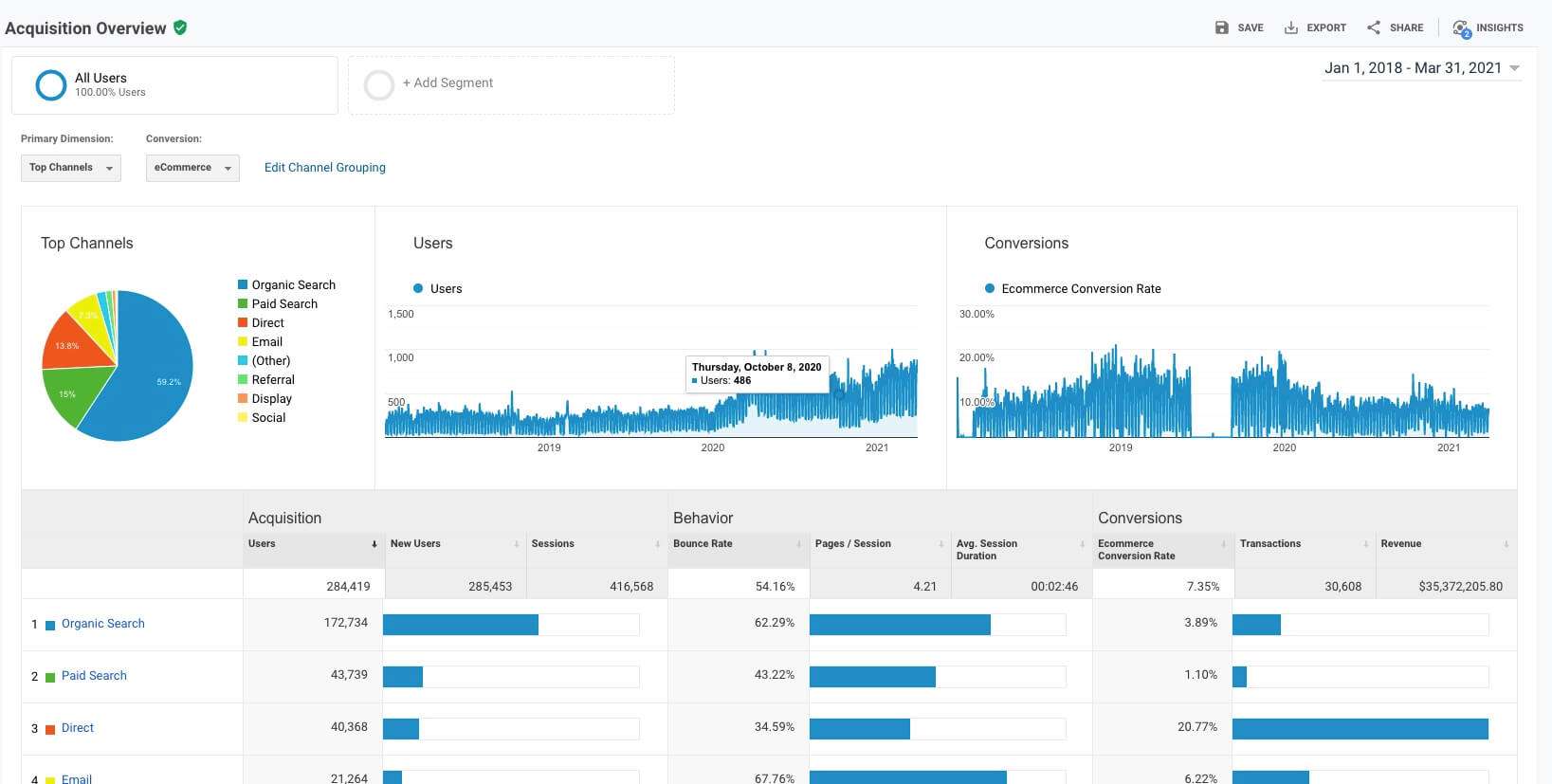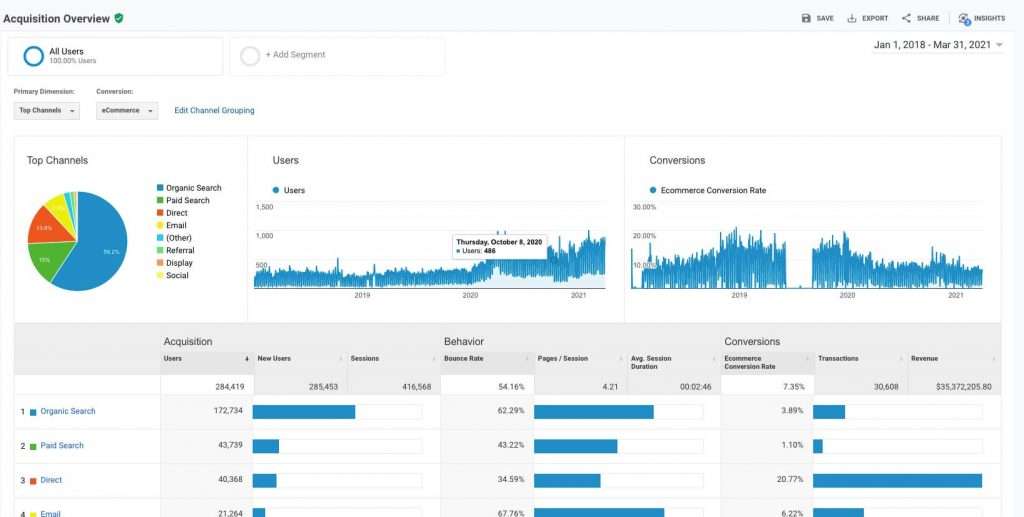 Schedule A Consultation Today To Learn About Our E-Commerce SEO Campaigns