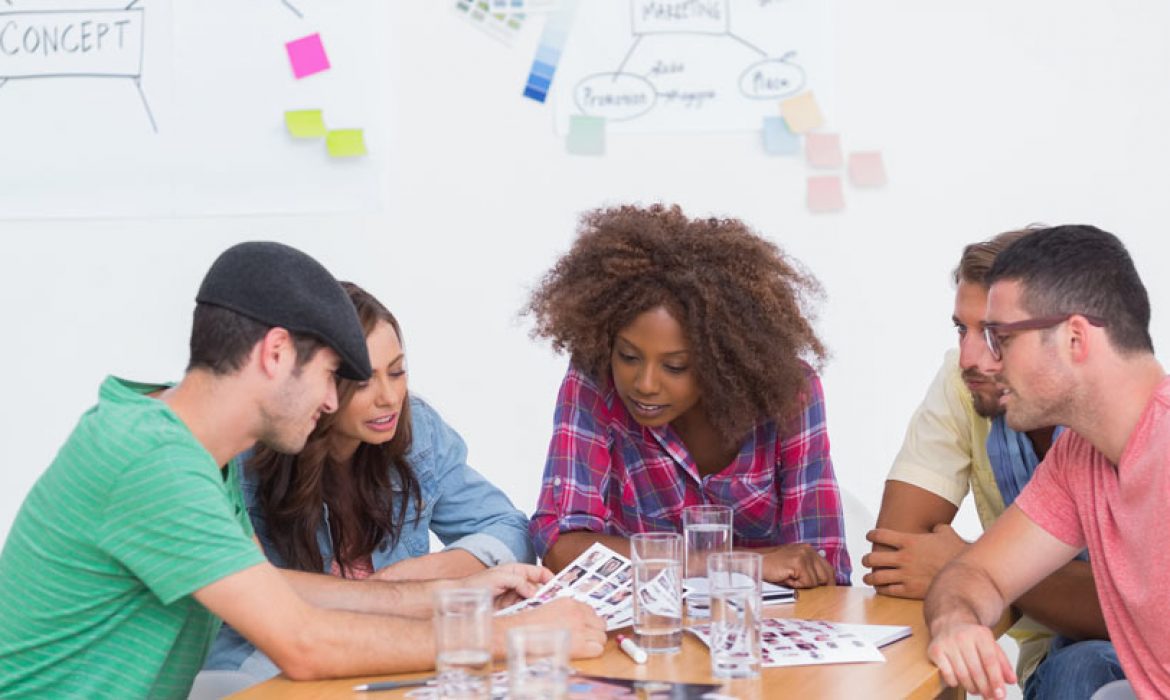 If you are considering launching a Magento website to facilitate all of your e-commerce, there are quite a few things you should know before starting the project to ensure you get the best possible finished result.
Choosing A Designer
So you've decided you want to build your e-commerce store on the Magento platform, now it's time to find someone who can really bring your ideas to life. Start by searching out designers who not only have a considerable amount of experience in layout and UX/UI, but more specifically designers who have UX/UI experience specifically in e-commerce. It is important that this designer fully understand the subtle differences between designing for a branded store, a "marketplace" type store, a store with minimal products and the various other types of potential e-commerce websites there may be. If your goal is to have a store with 10,000 products from various brands and manufacturers, it will need to be designed very differently than a website that is for one specific brand to showcase their product line. By looking through the portfolios of potential designers, you should be able to get a good idea of the e-commerce work they've done and how well they can communicate each website's "core message". Once you've found your design team you will need to contract with a developer.
Finding The Right Magento Developer
While you may be able to find an agency that employs strong designers as well as experienced Magento developers, there is no law that says the person who creates the website designs is the person who must implement the website development. Often times, the best developers won't be very strong designers and vice-versa, so it is important to do your due diligence. Start by searching out Magento developers with a proven work history or portfolio of creative, functional Magento websites. Check these websites for page speed, bugs, mobile responsiveness and any other issues or problems you may find. Chances are, if a majority of the websites in the developers portfolio are slow to load and don't work very well, yours will end up the same way. Another great resource for finding and vetting Magento developers is Magento Connect. Many Magento developers will publish themes and extensions to Magento connect, often times for free. You can then verify that they are in fact Magento developers and even try out some of their work to see if it would suit your needs.
Securing The Best Hosting
Once you've found the team to build your Magento website, it's time to secure a hosting provider that works well with Magento. Magento is a very large PHP application, which means it will require more than your average shared hosting server to operate properly. As a web design agency, we have worked with just about every major Magento hosting provider, and at this point our favorite is Nexcess. Nexcess has several very affordable hosting options that come fully optimized for Magento and include some very necessary add-ons, like a CDN for example. Nexcess also has an extremely knowledgable support staff, not only in managing your server, but also in general Magento knowledge and troubleshooting.
Experienced Ongoing Magento Website Management
While you may be able to afford to bring on someone in-house to manage your Magento website, it's probably best to engage with a professional web agency to manage the technical operations of your Magento website. Aside from simply adding and modifying your products, quite a bit of work goes in to properly managing a Magento store, and often times it can get fairly technical. Finding a team of experienced Magento web developers and designers to manage and maintain your Magento store will ensure it continues to run at peak performance and maintain best possible security.
Bricks & Mortar Creative is a web design agency that focuses on all three areas of Magento – design, development and management. We are not only highly experienced when it comes to user experience for e-commerce website, but have also spent a lot of time working directly with the Magento code base, continuously refining our Magento development skills. Further, we work with brands and companies of all sizes to manage, maintain and grow their Magento websites and e-commerce businesses. No matter how large or small your company or website is, feel free to drop us a line if you'd like to talk with us about any of our Magento services.
2020 Update – Magento End of Life
Another thing to consider when building a website on Magento is the version of Magento you'll be using. Starting in June 2020, Magento 1 will no longer be supported. This means that things like security patches, platform updates, and even new 3rd party extensions will no longer be released for Magento 1.
While Magento 2 is a very robust platform, it's not without its quirks. Developing a website for Magento 2 is also considerably different than developing for Magento 1. This means you could see an increase in development costs, and a potential decrease in website performance and usability if not built properly.
Because of the major changes in the Magento ecosystem, as of late 2019, we have made BigCommerce our preferred e-commerce platform. BigCommerce offers a wide range of enterprise e-commerce features, has well-documented and straightforward development, and best of all, it's easy for clients to use which makes it an excellent Magento end of life option.  If you'd like to schedule a free demo of the BigCommerce platform, contact us today.
Surprisingly, in 2019, there are still businesses that are not leveraging the benefits of e-commerce to sell their products and services online. Fortunately, e-commerce platforms are becoming more advanced every day. According to data collected by Statista, 11.9% of all worldwide retail sales were e-commerce sales. In short, this means that you can no longer afford to ignore building an e-commerce presence.
When building an e-commerce website, the first decision you'll need to make is what platform you'll be building it on. While there are a lot of great e-commerce platforms out there, many people are already familiar with Shopify. You may be surprised though at just how many clients come to us with the question, "Is there anything better than Shopify?".
After getting this question from quite a few clients, we decided to find out for ourselves. After experimenting with several different e-commerce platforms, we landed on BigCommerce eCommerce as the premier Shopify competitor.
So the real question then becomes BigCommerce vs Shopify – which is the best e-commerce platform for your business?
While there are several other e-commerce options out there, we strongly believe that either Shopify or BigCommerce are the best options for the majority of e-commerce website owners. Each e-commerce platform has it's own strengths, weaknesses, pros, and cons.
More importantly, the most appropriate platform will be dependent on the products that the store is selling, the need for specific e-commerce features, and any need for specific marketing features. It's important to have an understanding of your specific e-commerce needs before making a BigCommerce Shopify comparison.
While both BigCommerce and Shopify have unique qualities that make them great platforms, some differences make either platform better suited for your brand. So let's take a closer look and really compare Shopify and  BigCommerce.
E-commerce Features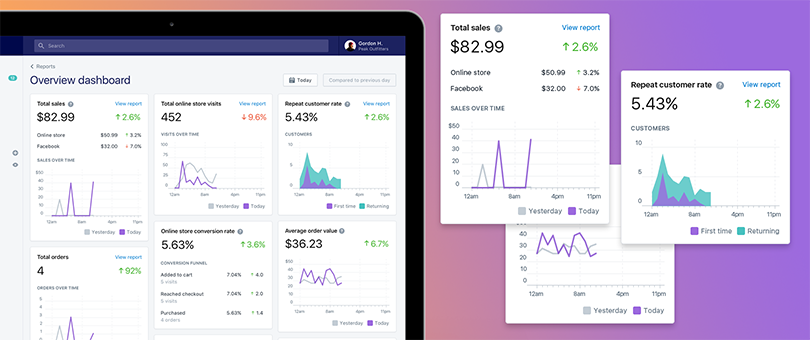 To kick off our BigCommerce Shopify comparison, let's start with the top-level features.  Even though Shopify and BigCommerce are both hosted in the cloud, they offer quite a few different e-commerce features. When looking at these platforms, it's important to understand that both of them have an enormous list of features.  Here are some of the main features:
Professional themes
Shipping options
Unlimited disk space
Automated tax calculation
Optimized for mobile
Unlimited bandwidth
And so much more…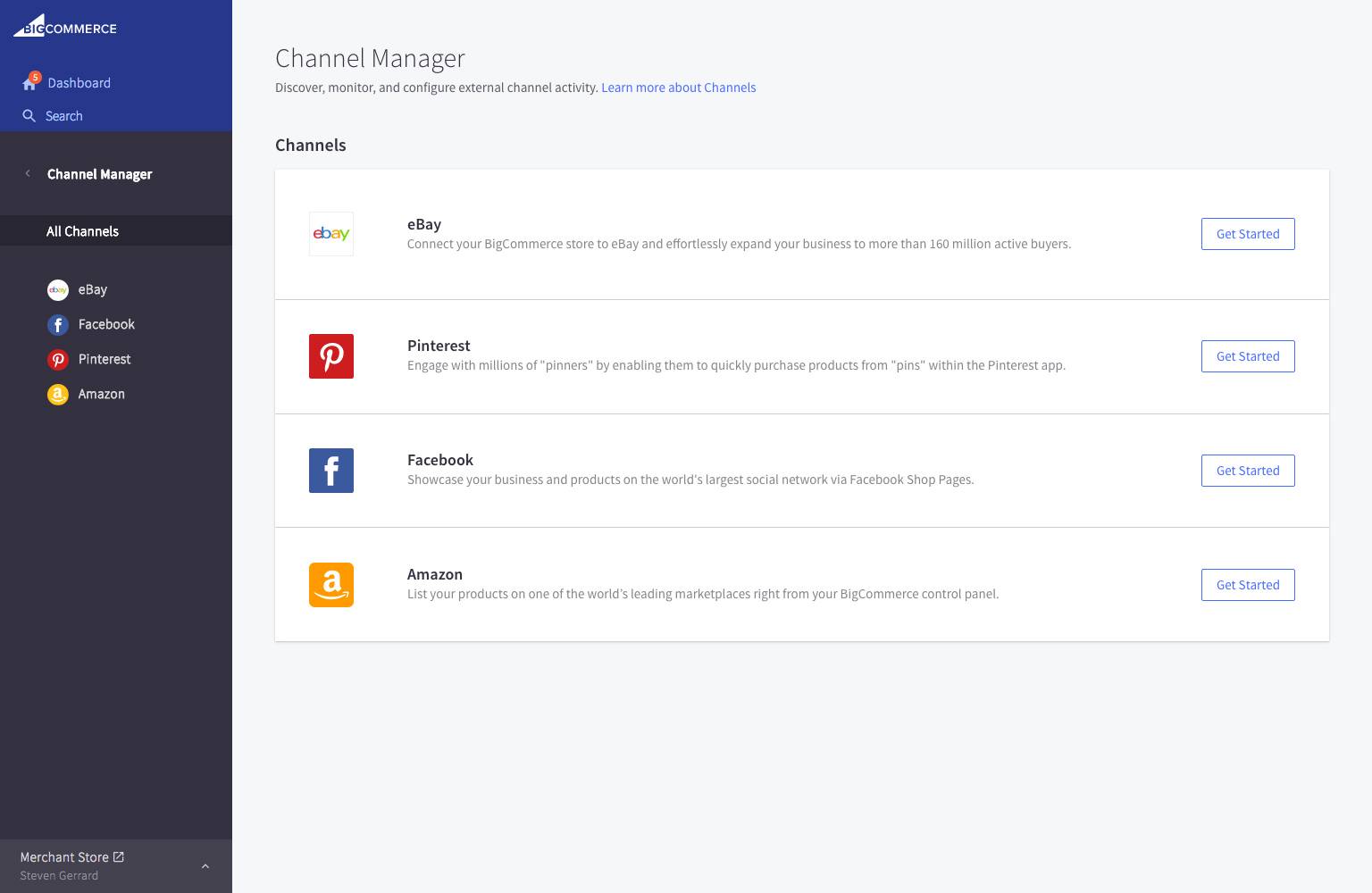 When comparing Shopify vs. BigCommerce it's important to understand just where these features begin to differ. While both platforms have all the necessary features or a great e-commerce platform Shopify doesn't have as many additional features as BigCommerce. Some of the useful additional features BigCommerce offers are:
Sync with the worlds top sales marketplaces like eBay and Amazon
A suite of marketing tools
Abandoned cart recovery
Advanced SEO features
Sales tax reports
Single-page checkout which you would otherwise have to pay for on Shopify
Comparing BigCommerce vs Shopify on their e-commerce features alone is pretty straightforward. While Shopify does include a huge number of e-commerce features right out of the box, BigCommerce really goes above and beyond giving e-commerce store owners the tools they need to succeed.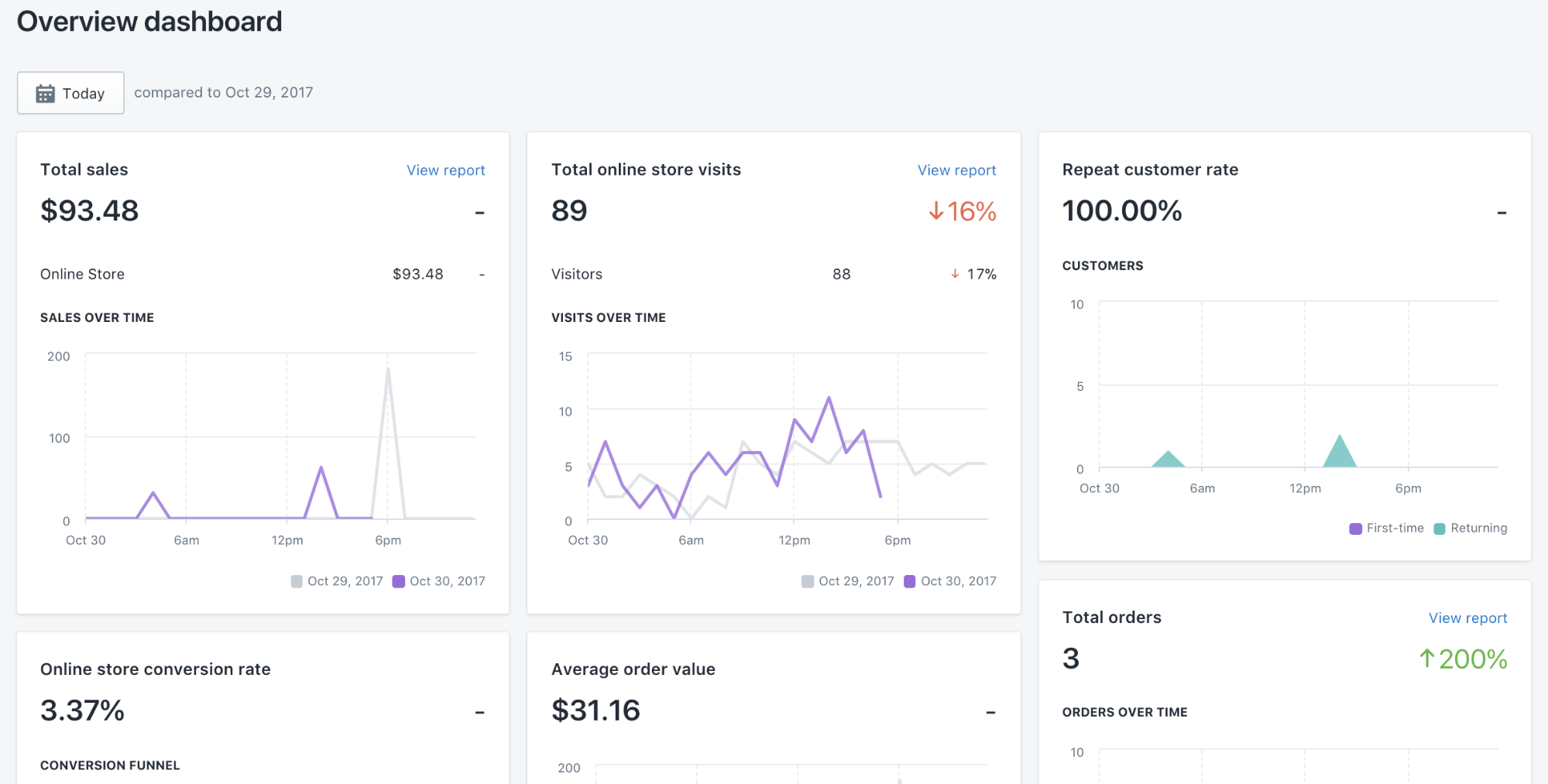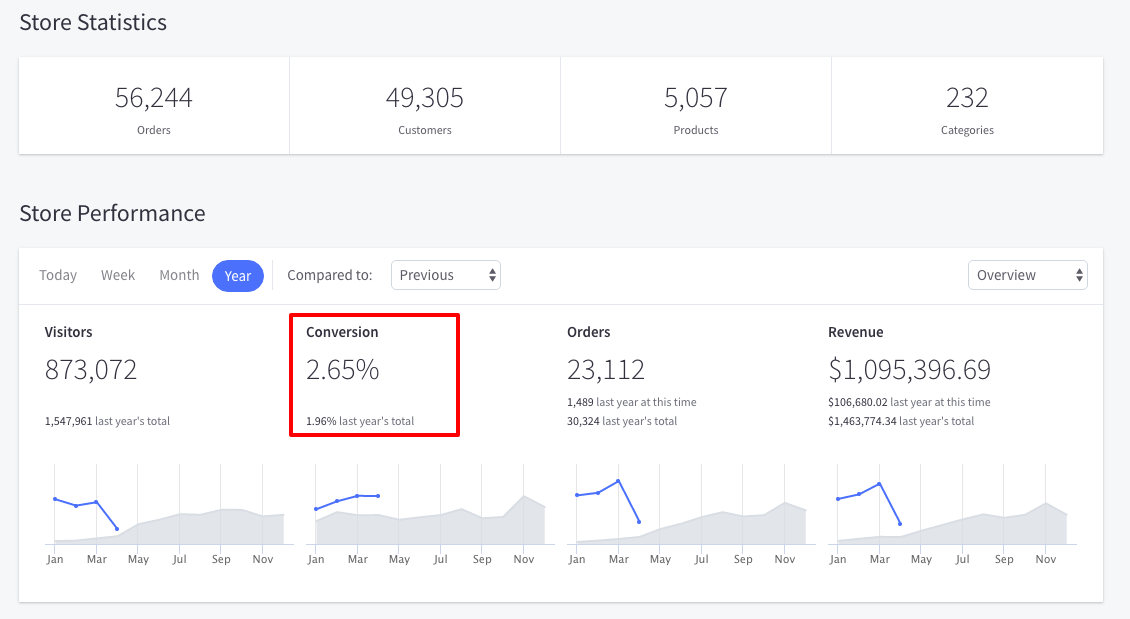 The BigCommerce platform provides integrations, analytics, marketing tools, and much more that you would need to pay extra for on Shopify through the use of Shopify paid apps. This alone makes the BigCommerce vs Shopify question a much easier one.
E-Commerce Platform Pricing
When most people compare BigCommerce to Shopify, the first thing they look at is pricing. Your e-commerce platform should not break the bank each month. The amount you spend on using your platform should only be a small fraction of your monthly sales. Fortunately, with both BigCommerce and Shopify, there is a platform pricing plan that will work for just about any budget.
Shopify Pricing Works Like This:
Shopify Lite $9.00 per month
Basic Shopify $29.00 per month
Shopify $79.00 per month
Advanced Shopify $299.00 per month.
Shopify Plus will range up from there.
Note that Shopify will charge transaction fees.
BigCommerce Pricing Works Like This:
BigCommerce Standard $29.95 per month
BigCommerce Plus $79.95 per month
BigCommerce Pro starts at $249.95 per month.
BigCommerce Enterprise starts at $999 per month and scales up from there.
BigCommerce does not charge your transaction charges.
Also good to keep in mind before pulling the trigger on either platform that both platforms offer free trials, so you can get your feet wet before you commit. So when looking at pricing and comparing BigCommerce vs Shopify, the scales are pretty even for the most part. The best thing to do is to work with an e-commerce web design studio to better identify all of your most important needs and then pick the platform that will meet your needs best.
E-Commerce Templates & Themes
One of the most important things to e-commerce website owners is how easy it is to update the look and feel of their website.  So when looking at BigCommerce vs Shopify from a commercial theme standpoint, how do to the two compare? Which of the two e-commerce giants provides the most aesthetically appealing and functional templates and themes?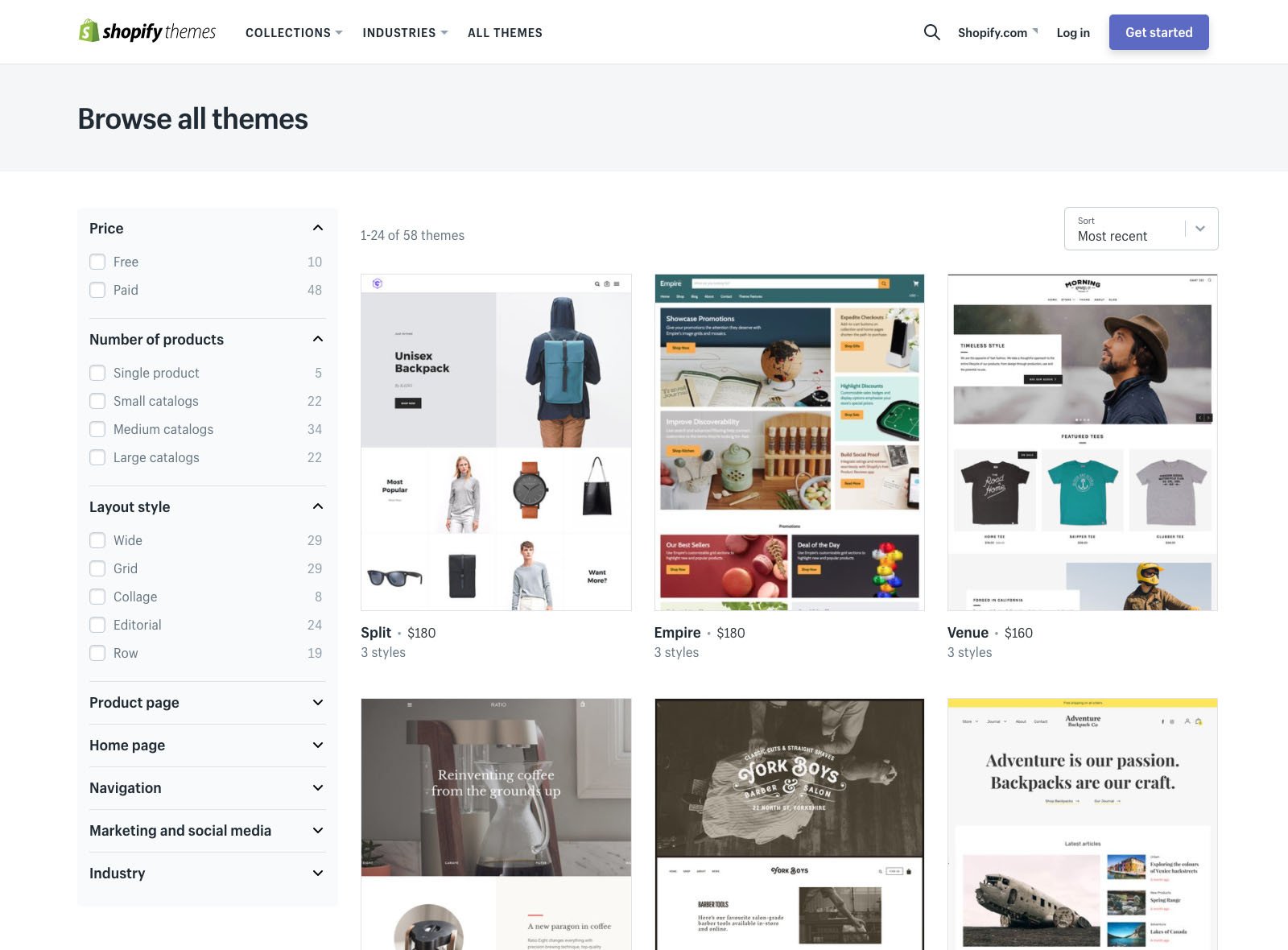 Remember, web design plays a significant role in closing sales. You'll want a platform that allows you to create an e-commerce website that looks great, communicates your brand message, and most importantly, is fully responsive and optimized for SEO. Here are other features you should be on the lookout for when comparing e-commerce templates:
Theme Flexibility
Mobile responsiveness
Marketing tool integration
Ease of Use
Ability to customize
When it comes to comparing templates and themes, Shopify does seem to be a bit ahead of BigCommerce. Shopify has been growing its library of paid and free themes for years and years now and has seemed to gain an advantage from a volume standpoint.
Also, each free theme you get from Shopify is different from the last. Moreover, with Shopify, you can quickly change the color as well as the typography of a template. BigCommerce also has hundreds of themes, but some customers have complained that their themes look obsolete.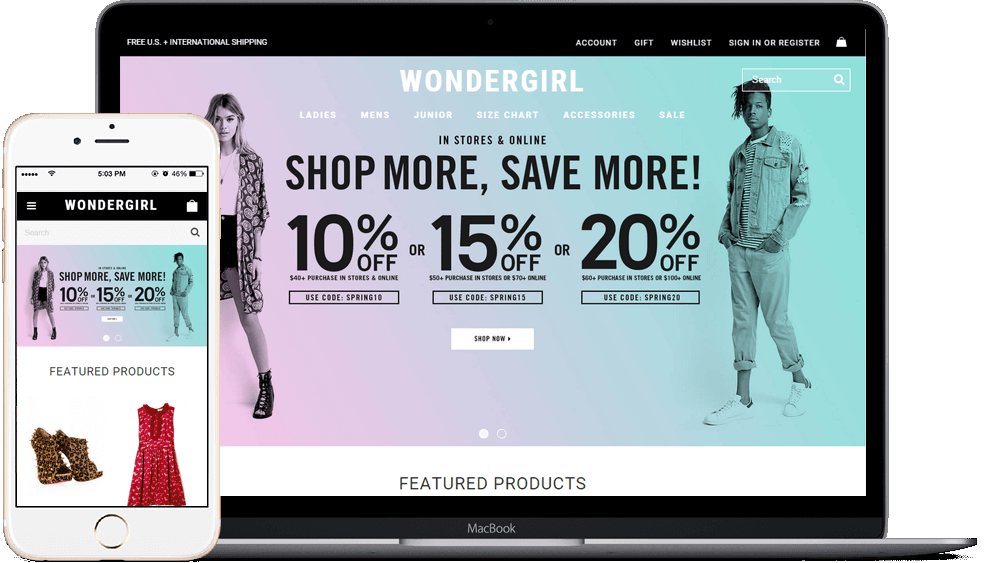 From a quality standpoint, however, BigCommerce and Shopify both offer a wide variety of very attractive, very usable themes for e-commerce store owners of all types.  So when comparing BigCommerce vs Shopify themes, it's really important to look at both quality and quantity. When viewed this way, they are pretty evenly matched.
Ease Of Use
While many store owners are concerned about premium marketing features, aesthetically appealing themes, and competitive platform prices, ease of use is also a huge concern for many store owners.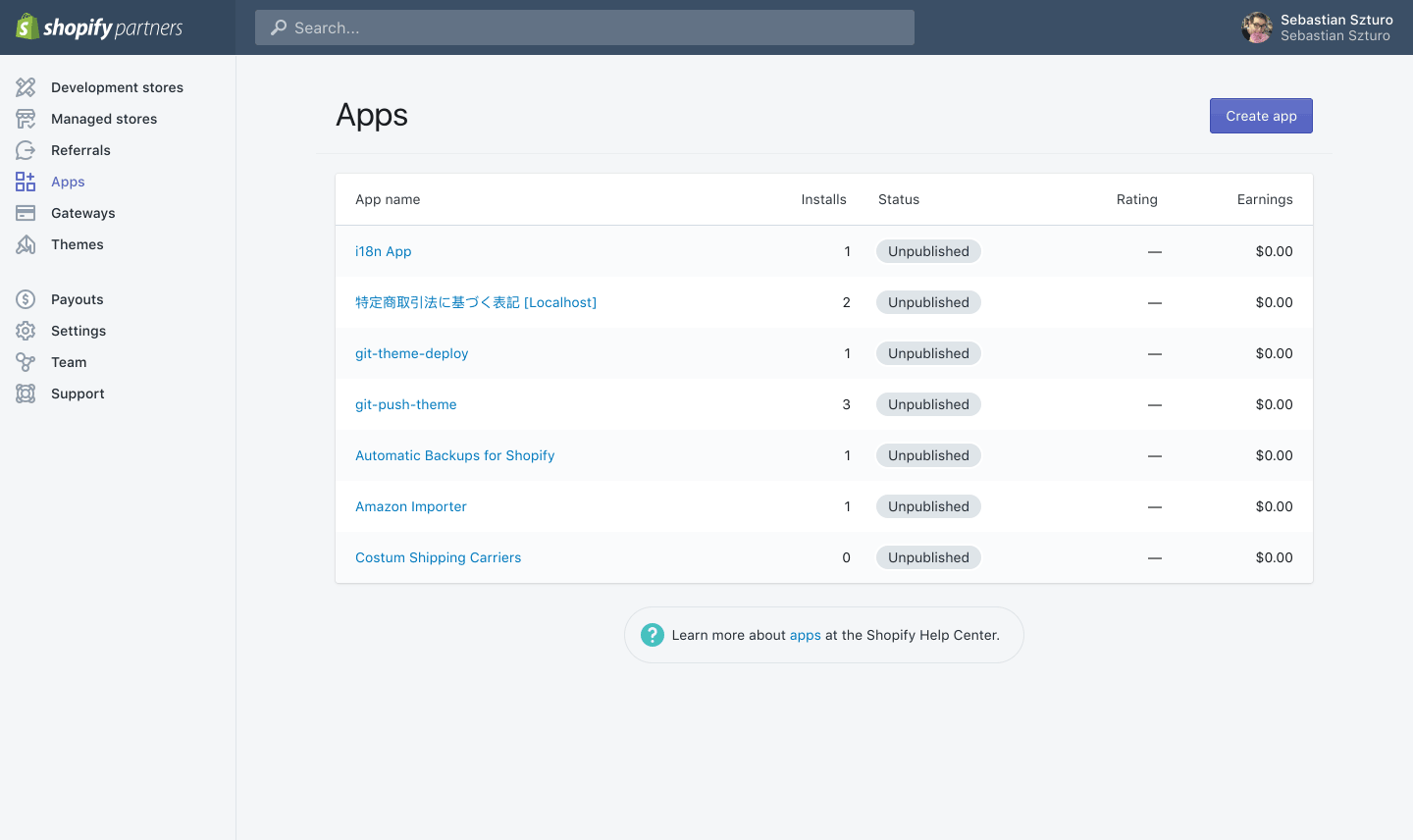 A great e-commerce platform will not only include all of the great features a store owner needs to succeed, but will also make things easy for them to succeed. How easy is it to change settings? How quickly can it be done? Are you having trouble picking a theme? Such questions will paint a clear picture of how easy one can use the platform.
Extensions & Add-Ons
Since both Shopify and BigCommerce are hosted platforms, store owners should also consider which platform has the best app store, most add-ons, plugins, and extras. The Shopify app store is home to more than 500 well-crafted apps that allow users to add any function to their store. There are also extensions for SEO, marketing, customer support, social media integration, etc.
BigCommerce also has a very popular app store and development community. BigCommerce store owners are able to search through hundreds of BigCommerce apps and extensions to facilitate any number of additional features.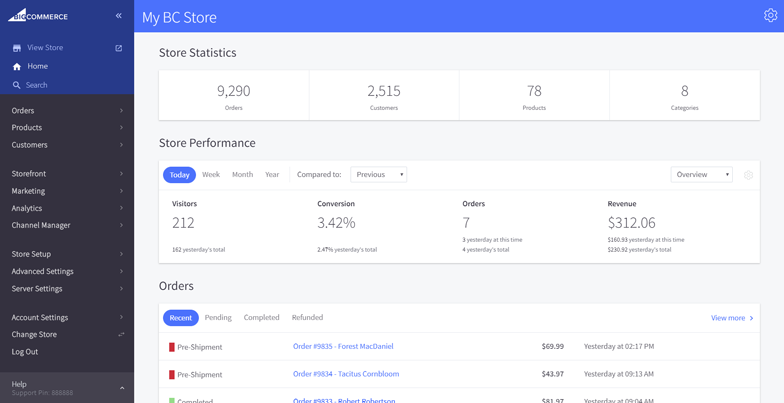 Much like with themes, it seems that the Shopify app store has more options on it, however, the BigCommerce app store seems to have everything an e-commerce store owner would ever need.
BigCommerce also has an arsenal of extras out-of-the-box which you would have paid for on Shopify. The BigCommerce API also makes it considerably easier for developers to create custom functionality and custom applications for BigCommerce websites.
Payment Processing
When you pick a platform and to your e-commerce website on, the payment provider you will be using is one of the most important things to consider. Shopify includes more than 100 payment gateways including Stripe, PayPal, etc. This makes it easy for a website owner to quickly accept payments using the processor of their choice.
While the number of payment gateways provided by BigCommerce is fewer than that provided by Shopify, it has more first-class gateway payment options. Also, at this time BigCommerce is not charging transaction fees to their customers while Shopify does charge a 2% transaction fee.
Shopify vs BigCommerce B2B
If you're looking for the best e-commerce platform for your B2B business, you will definitely want to learn a bit more about what both BigCommerce and Shopify have to offer. We have worked with a number of B2B clients over the years, and in that time I've found that BigCommerce is probably one of the best and most robust B2B e-commerce platforms available.
For one, BigCommerce supports customer-specific pricing as well as customer group pricing right out of the box. This means that you can set specific prices to each vendor as well as set pricing for groups of vendors. With Shopify, you would need to upgrade to Shopify Plus or install a few costly plugins just to get close to the same functionality.
BigCommerce also has several native integrations and native applications that are ideal for B2B businesses. For example, BigCommerce will connect with several shipping and logistics applications right out of the box. BigCommerce dropshipping apps and integrations are also readily available for website owners.
This means that your website will be able to communicate directly with your shipping team without the need for human involvement. For some businesses, the time saved with these features is worth tens of thousands of dollars to the company every year.
BigCommerce also has a huge application store and the ultra-popular BigCommerce Developer Forum. If your B2B business has a need that isn't met by one of the standard integrations that BigCommerce offers, it's very likely you'll be able to find a solution available through a third-party developer.
The BigCommerce application marketplace has digital tools that can be used to market your business, improve SEO, streamline your products, communicate with other platforms and so much more.
When it comes to doing business online, my general rule of thumb is "the fewer third-party vendors, the better". If your business utilizes various CRMs, vendor communication tools, and inventory tracking solutions, the last thing you want to worry about is having to figure out how to integrate each one of those services with your website.
While it's always possible to do this with platforms like Shopify, Magento, or Squarespace, no e-commerce platform makes this process as easy and secure as BigCommerce does.
If you are looking to grow your online B2B business and are shopping for the right e-commerce platform and are considering BigCommerce vs Shopify, BigCommerce would be our suggestion every time.
BigCommerce Vs Shopify Plus
If you own a more established e-commerce store and are looking for the best premium e-commerce platform, it's definitely a good idea to compare Shopify Plus vs BigCommerce. Both BigCommerce Premium and Shopify Plus offer many more features than their standard plans do, so let's take a look at some of the differences.
When comparing pricing, Shopify Plus and BigCommerce are going to be similar at the entry level. BigCommerce Premium will typically start around $1000 and will scale up from there based on the store's order volume. Shopify Plus usually starts around $2000 and will scale based on overall sales.
Both premium platforms also offer a number of great features for business scalability. For one, both platforms are excellent options from an order volume standpoint. For example, Shopify Plus can process up to 8,000 orders per minute. That's more than 130 orders per second!
Each e-commerce platform also has the ability to handle high-volume traffic and traffic spikes with ease. Self-hosted platforms like Magento and WooCommerce cannot make this same guarantee as hosting and server management is the responsibility of the website owner.
Shopify Plus also has a number of features that standard Shopify does not offer including the wholesale channel, advanced security, customizable workflows, and a whole suite of apps and integrations. It is worth noting, however, that many of these features are available in a standard BigCommerce subscription.
If you are looking to get started with a premium managed e-commerce service, both Shopify and BigCommerce are great options. However, when comparing the breadth of services and the value created by these services, BigCommerce is a much better option for website owners.
BigCommerce vs Shopify SEO
One thing that every e-commerce website owner should be concerned about is SEO for their website. As a content marketing agency, this is one of the areas we've spent the most time investigating. We want to make sure that when we launch a client website, it has the best opportunity for success online.
In our extensive research and testing on both platforms, we've found that BigCommerce is the clear winner when comparing BigCommerce vs Shopify for e-commerce SEO. Here are the primary areas we've based this conclusion on.
Optimizing Meta Data
Both platforms do give you the ability to easily optimize metadata for pages, products, categories, posts, and any other content. However, on Shopify, you really only have access to the page title and meta description. Within BigCommerce, you have the ability to manage several other pieces of important metadata like Facebook Open Graph tags.
BigCommerce also includes many other optimization must-haves like Schema Data, microdata, rich snippets, JavaScript and CSS optimization, and redirects right out of the box. While you can include these things into a Shopify theme, it would require your developer to have a substantial understanding of SEO, to begin with.
Page Speed
Website page speed is an extremely important factor in modern SEO. While much of the page speed will be dictated by how the website is built and the assets it is using, website and server configuration will also play a big role.
While building websites on BigCommerce is considerably more complex than building websites for Shopify, this is because BigCommerce utilizes a more technically advanced and efficient development workflow. With BigCommerce you're able to hook into things like lazy loading, Webpack configurations, and page-specific asset loading right out of the box.
Site Architecture
URL architecture and internal linking are also very important aspects of on-page SEO. In my extensive experience with Shopify, this has been one of the biggest pain points from an SEO standpoint. While you can optimize the individual URLs for given pages, Shopify creates a URL hierarchy that is not ideal for SEO.
BigCommerce understands that different websites may require different URL optimization methods, so they give users the ability to choose their ideal URL structures. With BigCommerce you also can define a URL structure for categories, one for products, and one for pages, so that your URLs can be as clean and concise as you'd like.
SEO Support
One aspect of SEO that most people don't talk about when it comes to BigCommerce vs. Shopify is the SEO support that each platform provides. As an SEO company, we've spent a good amount of time interfacing with each platform on behalf of our clients.
To start, both platforms offer good customer service when it comes to overall platform support. More often than not, the phone support personnel are knowledgeable about the platform, the platform features, and are able to help clients find a solution.
When it comes to SEO and implementing a strong on-page SEO strategy, I've found that Shopify support fell short compared to BigCommerce. While the Shopify support team was familiar with basic SEO practice and how to implement basic metadata changes, the breadth of their knowledge would typically end there.
Similar to Shopify support, BigCommerce technical support team members are almost always familiar with the basics of metadata optimization and where these changes can be made on the platform. However, in my experience, BigCommerce support team members will typically be able to provide quite a bit more insight into technical SEO.
For website owners that don't have the budget to hire an SEO company, but still want to start making progress with their organic search campaigns, BigCommerce is going to be the best bet.
Comparing Other E-Commerce Platforms
We've focused primarily on BigCommerce vs Shopify comparisons for the majority of the article, however, there are a few other popular e-commerce platforms worth quickly touching on.
Shopify vs. WooCommerce vs. BigCommerce
One of the more popular self-hosted e-commerce platforms is WooCommerce. WooCommerce is actually an e-commerce plugin that was built for WordPress. As a plugin, WooCommerce gives WordPress website owners the ability to quickly and easily integrate e-commerce functionality into their existing websites.
WooCommerce is an open-source plugin, which means that you can use it absolutely free. The only costs that are associated with running a WooCommerce website are the costs for hosting, SSL certificates, PCI compliance, and any other monthly services like a CDN.
In most cases, website owners will already have all of these things in place, so at that point including WooCommerce represents a $0 cost.
Building custom plugins and developing custom code for WooCommerce is also considerably easier than it would be for Shopify or BigCommerce.
This is not always a good thing though as it allows for lower-quality code to enter the WooCommerce ecosystem. When store owners install low-quality plugins, they are always running the risk of introducing the potential for site failure, security vulnerabilities, or corrupted data.
I always tell clients that WooCommerce is an excellent solution if e-commerce is a secondary purpose for your website. For example, if you run a service-based business but also sell merchandise.
However, if e-commerce is going to be the primary function for your website, you will probably want to go with BigCommerce or Shopify so that you don't have to worry about the overhead for security, upgrades, PCI compliance etc.
Magento vs Shopify vs BigCommerce
Magento is another very popular self-hosted e-commerce platform. Unlike WordPress/WooCommerce, Magento was designed and developed as an e-commerce platform first. As far as self-hosted, open-source e-commerce platforms go, Magento is the best hands down.
While Magento is open-source and free to use, it is considerably more complex to develop for, so will usually have a much higher price tag when it comes to website development work. When the site owner does not have a specific need that only Magento can facilitate, it usually doesn't make much sense for the site owner to take on the additional costs.
In addition, the Magento platform is constantly being developed and upgraded. While in some cases this is a good thing, it also means that bugs, errors, and issues are a normal part of owning a Magento website. Magento does push regular updates for bugs, security, and other upgrades, most Magento website owners never upgrade their store once it's live.
Upgrading Magento is no easy task. It requires a full system backup, an experienced Magento developer to perform the updates, and a considerable amount of time to test and verify the updates. As most Magento stores also include third-party applications, it's important to update and test these changes too.
For website owners with internal web development teams, regular Magento upgrades and security patches won't be as big of a deal. However, if you need to engage a developer for 10 – 15 hours of work for each upgrade, you could be looking at an additional $5,000 to $7,000 per year for updates alone.
If your e-commerce business has a need for a very custom functional user experience or the need for rapid custom development, Magento may be the best platform for you. However if your website conducts traditional e-commerce transactions, Magento may be overkill.
Customer Service
One of the most important factors a new e-commerce store owner should consider is customer service.  When looking at BigCommerce vs Shopify how do their customer support teams stack up?
What happens when you have questions and need support? If something goes wrong, how soon can it be rectified? Both Shopify and BigCommerce offer reliable customer support and provide customer services including:
24/7 customer service support via email, phone call, and live chat
Informative FAQ pages
Knowledge-base
However, at the end of the day, BigCommerce seems to provide superior customer service. BigCommerce is ready and willing to help troubleshoot issues with website owners right on the phone, they provide video and webinar training, and they also provide countless materials to store owners that are solely focused on their success.
Shopify also provides store owners with training and growth materials, however, they just don't seem to have the same level of detail and depth as the BigCommerce materials and the Shopify knowledge base is just not as extensive as BigCommerce's.
So, BigCommerce vs Shopify? What's The Verdict?
So, after looking at some of the pros, cons, similarities, and differences with BigCommerce vs Shopify, what's the verdict? After all, you didn't come here for a tie right?
While we still think Shopify is an incredible e-commerce platform and love to build websites for it, we think BigCommerce is our e-commerce platform of choice for 2019. Between the technical capabilities, marketing features, platform support, and the development community, we truly think BigCommerce is poised to become the next big e-commerce platform.
If you're interested in learning more about BigCommerce, taking a tour of the platform, or learning more about what we can do for your existing e-commerce business, feel free to schedule a strategy session with our team today.